Over the last year, I have repeatedly expressed my concerns over the conditions for children in the children's secure estate. As I said last year in the section of the Family Review that looked at children in custody, this is not a place designed to nurture and care for a highly complex cohort of children, especially those with trauma and mental health issues.
As we mark Mental Health Day this week, I wanted to say something about the mental health of these children and those in other secure settings around the country.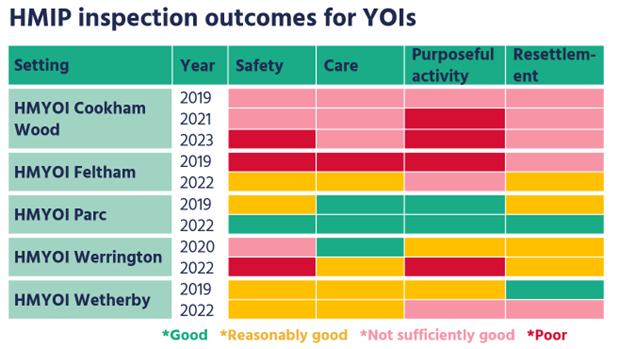 At any one time, there are between 400 and 500 children in England and Wales in the three types of secure settings used by the Youth Custody Service. These are the five Young Offender Institutions (YOIs), Oakhill Secure Training Centre, and the eight Secure Children's Homes that take children on custody placements. All but one of the YOIs had an inadequate judgement in at least one area at its last inspection by HM Inspectorate of Prisons (HMIP). Cookham Wood failed on all four areas at its last inspection – you can read my team's visit there following the Urgent Notification at Cookham Wood.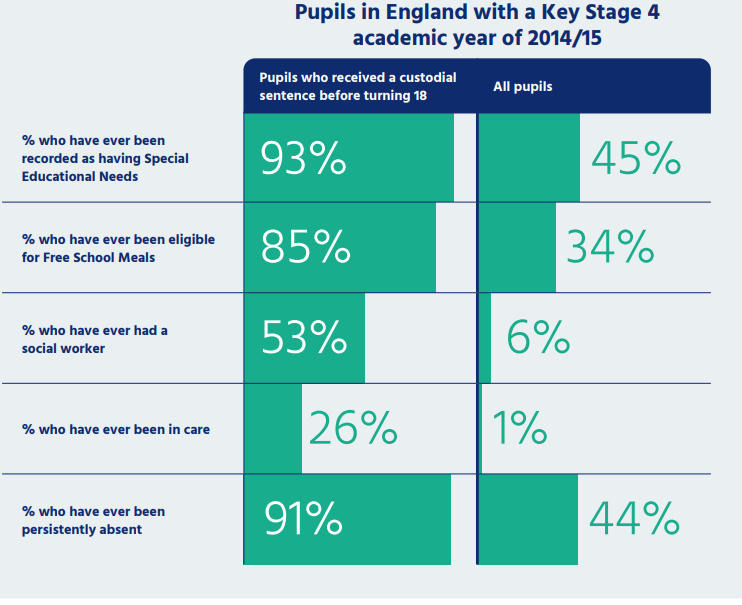 The very welcome long-term reduction of the numbers in the children's secure estate has led to a concentrated cohort with extremely high needs. For example, 93% of children who received a custodial sentence have a Special Educational Need, compared to 45% of all pupils. The same is also true for mental health needs, including severe mental health conditions, neurodivergency, and widespread experience of trauma. This is without the mental health challenges for children living in secure settings. In 2019-20, for example, 72% of children with a custodial sentence was assessed by practitioners as having mental health as a concern.[1]
In my conversations with boys in secure settings, they are very clear that they do not always get the mental health support they need.
''Trainees [i.e., children at Oakhill] need mental health help. A lot of them do' – Young man, aged 18, Oakhill Secure Training Centre.
'Better mental health services for children inside and out. […] Nothing is as important as that' – Young man, aged 18, Oakhill Secure Training Centre.
The Youth Custody Service and NHS England is embedding an evidence-led Framework for Integrated Care, also known as Secure Stairs, to improve children's outcome and training staff to provide more psychologically-informed care in secure settings. However, challenges persist.
For example, HMIP found that while the health and wellbeing team at Cookham Wood were supporting 82% of the children, other officers were not aware of key parts of the Secure Stairs framework and how it applied to the children. Furthermore, HMIP noted that "most appointments were repeatedly cancelled because of poor access to the children in confidential and therapeutic rooms and the lack of escort staff. Too often clinicians visited children and talked to them through the cell door which was an inadequate replacement for structured therapy."
Secure children's settings should be environments that are therapeutic and educational first and foremost. I find it very concerning to hear of children not receiving adequate care or support because of the poor conditions within the settings they are living in.
We need a much more ambitious plan for the future of secure care. At the moment children are deemed in need of secure care are funnelled into different systems – the criminal justice, mental health, or children's social care. But we can see that children do not fit tidily into these boxes – the children in custody have high levels of mental health needs. I want to see all children receiving a therapeutic, child-centred response which can meet their individual needs, rather than trying to fit them into different siloed systems.
That is why I want to see the Ministry of Justice, the Department for Education and the Department for Health and Social Care convene to develop integrated, secure therapeutic care for all children in secure settings or those deprived of liberty elsewhere.
---